DAUM COMMERCIAL COMPLETES SALE OF FULLY LEASED 57,300 SQUARE-FOOT, SINGLE-TENANT INDUSTRIAL BUILDING IN TIGHT LOS ANGELES COUNTY SUBMARKET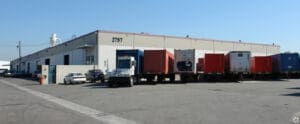 DAUM Commercial Real Estate Services recently completed the sale of a fully leased 57,300 square-foot, single-tenant industrial building in the Rancho Dominguez submarket of unincorporated Los Angeles County, California. The firm represented both the seller, Circle Industrial, and the buyer, Rexford Industrial, according to DAUM Executive Vice President Casey Mungo, who arranged the transaction.
"This was a true win-win scenario for both of the industrial real estate investment firms involved in this transaction," says Mungo, noting high competition for industrial assets South/West Los Angeles submarket, demonstrated by vacancies consistently posting in the 2-percent-range. "We were able to secure an ideally located property for the buyer in one of the most desired industrial submarkets in Southern California, which is currently leased to a credit tenant. The seller was, in turn, able to secure a premium price based on this demand."
Mungo notes that this property is a strong addition to Rexford Industrial's portfolio, offering immediate cashflow. The asset was also attractive to the buyer because it sits on 3.5 acres of land, resulting in low site coverage of approximately 38%, allowing for ample trailer or material storage and flexibility down the line.
The seller initially purchased this property in 2014 as part of a portfolio, paying land cost for the asset.
Mungo explains: "With the continued tightening of the market, Circle Industrial decided now was the time to sell and strategically trade into a high-yield asset in Atlanta, Georgia."
The property is located in a highly accessible location, in close proximity to several major freeways including Interstates 405, 710 and 110, providing unmatched access to the Port of Los Angeles and the Port of Long Beach.
The asset is located at 2757 E. Del Amo Boulevard in Rancho Dominguez, California.
About DAUM Commercial
DAUM Commercial Real Estate Services is a leading provider of commercial real estate services including brokerage, tenant representation, consulting, leasing, sales and property management. Founded in 1904, DAUM focuses on longstanding client relationships and draws upon its century-long track record to deliver steadfast insights and proven results to clients across the U.S. DAUM has ten offices throughout Southern California and Arizona. More information is available at www.daumcommercial.com.