DAUM COMMERCIAL HELPS NATIONAL INDUSTRIAL REIT ACQUIRE WAREHOUSE IN TIGHT LOS ANGELES COUNTY SUBMARKET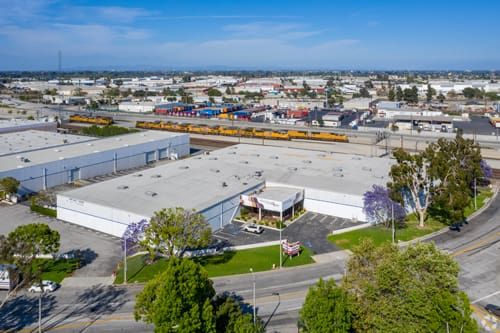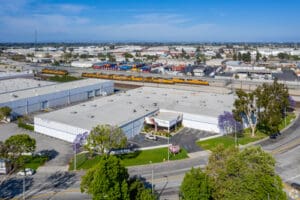 DAUM Commercial Real Estate Services recently directed the acquisition of an industrial warehouse totaling more than 85,000 square feet in the South Bay submarket of Rancho Dominguez, Los Angeles County, California, on behalf of the buyer, First Industrial Realty Trust, and the seller, a cosmetic products manufacturer.
The buyer, a Chicago-based publicly traded real estate investment trust that owns and operates a national portfolio of industrial assets, plans to maximize the value of the property's unmatched infill location by completing strategic redevelopment, according to DAUM Executive Vice President Andrew Lara, who completed the transaction alongside Executive Vice President Jordan Lara and Associate Natalie Lara.
"We immediately recognized that this building's prime location was well aligned with the buyer's investment strategy of focusing on the creation of long-term value within infill markets like the South Bay," says Andrew, noting that the property was in high demand as one of the largest manufacturing buildings in Rancho Dominguez, a tight submarket experiencing sub-3% vacancy rates. "Through our deep industry relationships and extensive knowledge of the local market, we were able to bring this opportunity to the buyer and successfully demonstrate how the building complements the REIT's existing Los Angeles-area footprint."
According to Jordan Lara, the property's close proximity to the 710, 91, 405 Freeways and Ports of Long Beach and Los Angeles opened up a significant value-add opportunity for the buyer.
"While this property, as built, is primarily suited to manufacturing and light distribution needs, we strategically determined that the future of this asset could be more of a robust distribution operation, based on its location in a booming logistics environment," explains Jordan. "Ultimately, sourcing a buyer who could redevelop the asset to access its full potential and fulfill a huge demand in the market required specific real estate fundamentals to come together, making this a true win-win scenario for both parties involved."
This redevelopment project, scheduled to be completed by Q3 2021, will be one of the largest underway in the South Bay, he also notes.
Natalie Lara adds that a crucial component to marketing the property, and ultimately securing a quality buyer and satisfactory price for the seller, was DAUM's role in demonstrating a vision for this redevelopment.
"As part of strategically exploring redevelopment options, we consulted a well-known architect in Greater Los Angeles to render various value-add options to increase functionality and operational efficiencies to present to potential buyers, such as repositioning docks and increasing dock positions, the truck court turning radius, and truck and trailer parking," says Natalie.
Existing building features include four docks, an additional short cab loading position, a new foil scrim roof, a fire protection system, and office space.
Andrew, Jordan, and Natalie, all based out of DAUM Commercial South Bay office, are members of The Lara Team, which has closed a total volume of $XX in transactions in 2020 thus far.
The asset was sold for a total consideration of $14.35 million. The property is located at 19400 and 19302 S. Laurel Park Road in Rancho Dominguez, California.
About DAUM Commercial 
DAUM Commercial Real Estate Services is a leading provider of commercial real estate services including brokerage, tenant representation, consulting, leasing, sales and property management. Founded in 1904, DAUM focuses on longstanding client relationships and draws upon its century-long track record to deliver steadfast insights and proven results to clients across the U.S. DAUM has ten offices throughout Southern California and Arizona. More information is available at www.daumcommercial.com.