DAUM PROMOTES KEREL SHARFNER TO VICE PRESIDENT
Jan 4, 2018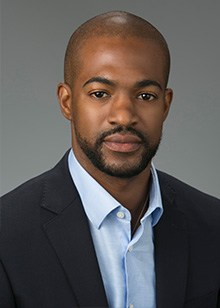 Kerel Sharfner specializes in industrial properties and investment sales in DAUM's Downtown Los Angeles office and is a local market expert in the Central Los Angeles market, specifically Vernon, Huntington Park, and South Gate. As a former collegiate athlete, Kerel approaches his real estate career with the same tenacity and dedication. He attributes his success to developing relationships and building trust with his clients through his market knowledge. Kerel has a background of selling Commercial Real Estate software which has supported his efforts in becoming a market expert during this increasing technological era. Kerel graduated from California Lutheran University, where he received a B.S. degree in Business Management and is an active member of the AIR.
"Kerel has done an exceptional job of integrating his strong work ethic, and professionalism in assisting his clients. In addition, he is a team player and adds incomparable value to the entire Daum network," states David Freitag, Executive Vice President & Branch Manager of DAUM's Los Angeles office.
DAUM recognizes and congratulates Kerel for his outstanding production to earn his promotion to Vice President.
DAUM Commercial Real Estate Services provides a full array of services including brokerage, consulting, leasing, sales, corporate services and asset, construction, project and property management. Founded in 1904, DAUM is California's most experienced commercial real estate brokerage company. DAUM has 10 offices throughout Southern California and Arizona. More information is available at www.daumcommercial.com.
DAUM Commercial Real Estate Services is a member of ONCOR International, a premier global commercial real estate network. ONCOR International LLC, a subsidiary of Realogy Corporation, oversees the ONCOR International member network. More information is available at www.oncorintl.com.