DAUM REPRESENTS KISER HARRISS CHEMICAL DISTRIBUTION CENTERS, INC. WITH A 131,875 SQ. FT. INDUSTRIAL BUILDING LEASE
Jul 11, 2012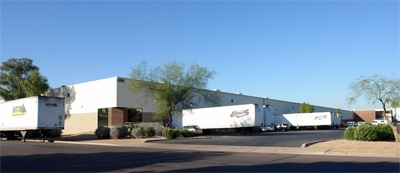 DAUM Commercial Real Estate Services today announced that Kiser Harriss Chemical Distribution Centers, Inc. has signed a lease with Prologis for 131,875 square feet at the Prologis Papago Distribution Center #1 facility located at 4741 W. Polk Street in Phoenix.
Kiser Harriss consolidated from two other locations in Phoenix and Glendale, Ariz. to the new facility.
Steve McKendry and Kirk Jenkins, principals of DAUM Commercial Real Estate, represented Kiser Harriss with the lease transaction while Don Mac William and Payson Mac William, Senior Vice Presidents with Colliers International represented Prologis, the property owner. Jeff Foster is the local Vice President – Market Officer for Prologis.
About Prologis
Prologis, Inc. is the leading owner, operator and developer of industrial real estate, focused on global and regional markets across the Americas, Europe and Asia. As of March 31, 2012, Prologis owned or had investments in, on a consolidated basis or through unconsolidated joint ventures, properties and development projects expected to total approximately 584 million square feet (54.2 million square meters) in 22 countries. The company leases modern distribution facilities to more than 4,500 customers, including manufacturers, retailers, transportation companies, third-party logistics providers and other enterprises.
About Kiser Harriss
Kiser Harriss Chemical Distribution Centers Inc., headquartered in Belmont, North Carolina, has provided logistics, transportation and consulting services for customers globally since 1962. They specialize in the warehousing and transportation of hazardous and non-hazardous chemicals.
DAUM Commercial Real Estate Services provides a full array of
commercial real estate services including brokerage, consulting,
leasing, sales, corporate services and asset, construction, project and
property management. Founded in 1904, DAUM is California's oldest and
most experienced commercial real estate brokerage company. DAUM has 9
offices throughout Southern California and Arizona. More information is
available at www.daumcommercial.com.
DAUM Commercial Real Estate Services is a member of ONCOR International,
a premier global commercial real estate network. ONCOR International
members represent over 50 independent commercial real estate brokerages,
with more than 2,200 associates, in over 170 offices throughout 32
countries. In 2007 ONCOR International members were collectively
responsible for approximately $38.4 billion in commercial real estate
volume and over 17,000 commercial real estate transactions. ONCOR
International LLC, a subsidiary of Realogy Corporation, oversees the
ONCOR International member network.   More information is available at www.oncorintl.com.