Sweet Frog Premium Yogurt Breaks Opening Day Record with New Palmdale, CA Location
Apr 2, 2013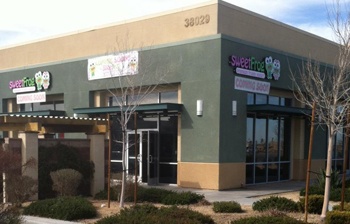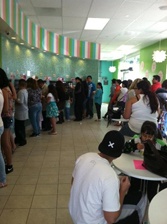 Palmdale, California is one of the first Southern California locations for Sweet Frog Premium Yogurt.  The store celebrated its Grand Opening at the 47th Street Pavilion on 47th Street East in the city on Sunday, March 24th.  Their opening day broke all previous opening day records for the national chain and was followed by second day sales that surpassed overall sales nationwide.
Based in Richmond, Virginia, Sweet Frog is the brainchild of entrepreneur Derek Cha.  Cha opened the first Sweet Frog location in Richmond in June, 2009, and has grown the company from one store to nearly 250 franchised locations nationwide.  Sweet Frog is one of the fastest growing franchises in any category in the country.  The company prides itself on developing neighborhood partnerships through fundraisers and other community events.  Sweet Frog has become an established brand predominantly in the Mid-Atlantic region and is planning to rapidly expand its West Coast presence.  Sweet Frog specializes in formulating secret recipes of premium soft-serve frozen yogurt with a toppings bar stocked fresh daily, available in a self-serve environment. 
The Palmdale location is owned and operated by Dr. Dan Robinson and his wife, Darla.  This is the third Sweet Frog location the couple have started, the first two in Maryland, and are at the forefront of Sweet Frog's entry into Southern California, with plans for additional locations in Los Angeles and Orange Counties.  The pilot store in Palmdale has signed a five-year lease for 1,561 square feet at the Power Center.
Both the Landlord and Tenants were represented by Blair Bess and Patti Kutschko of DAUM Commercial Real Estate's Valencia Office, who continue representing Sweet Frog in its ongoing expansion in the Southland.  47th Street Pavilion is owned and operated by Merlone Geier Partners.