Media Coverage
show
10
20
30
posts per page
DAUM Commercial Real Estate Services has completed the $13.78 million sale of a 64,109 square-foot industrial asset situated on 2.64 acres of land in the Los Angeles County submarket of Temple City, California, on behalf of the seller, Dunleer, a Los Angeles-based real estate investment firm.
While initially planning to complete an extensive value-add renovation upon acquisition of the asset in Q3 of 2021, Dunleer was able to capitalize on skyrocketing demand for space in the submarket and sell for 130% of the purchase price within just 4 months of ownership, according to Jordan Lara, an Executive Vice President at DAUM Commercial and member of LARA Team, who represented the seller in the transaction.
"This investment benefitted from the rapid movement the Los Angeles industrial market experienced in the second half of 2021," explains Lara. "When negotiating Dunleer's purchase of the asset last year, we locked in exceptional pricing early on. Furthermore, we facilitated a three-month leaseback, which was a significant benefit for the seller and provided us with the opportunity to bring the asset to market. Through strategic marketing of the property, we immediately received several healthy offers from potential lessees and buyers."
Lara adds that the property is exceptionally located in the highly in-demand San Gabriel Valley submarket, which saw record-low vacancies in Q4 2021 at 1.2%, in addition to 41.6% and 26.1% increases in sale volume and sale prices, respectively, over Q3, according to a recent DAUM report.
"It would be essentially impossible to recreate this asset in such an unbeatable location, which is ideally situated for last-mile distribution, in close proximity to Downtown L.A. and several population hubs," continues Lara. "We ultimately sold to an owner-user produce distributor that sought to consolidate its existing facilities and relocate to an area that offered room for growth and is closer to its employee base."
BJ Turner, Founder and CEO of Dunleer, adds: "This was a win-win transaction that allowed us to benefit greatly from a strategically timed purchase and the velocity of the market that has been accelerated and enhanced by the pandemic. We had an ideal asset in a key infill location that was vacant and ready for immediate occupancy by a user – in today's high velocity, low occupancy market, this asset was a rarity . LARA Team did a fantastic job identifying a highly qualified buyer who was able to close quickly and ultimately secured an irreplaceable property."
The property features freestanding, secured yards, 21-foot minimum clear height, seven roll-up doors and three dock positions, 2000-amp three-phase power, and ample parking.
The asset is located at 9620-9642 Gidley Street in Temple City, California, within one mile of Interstate 10 freeway, providing ease of access throughout the region, including the Ports of Los Angeles and Long Beach, several local airports, and communities like Pasadena and Arcadia.
About DAUM Commercial
DAUM Commercial Real Estate Services is a leading provider of commercial real estate services including brokerage, tenant representation, consulting, leasing, sales and property management. Founded in 1904, DAUM focuses on longstanding client relationships and draws upon its century-long track record to deliver steadfast insights and proven results to clients across the U.S. DAUM has ten offices throughout Southern California and Arizona. More information is available at www.daumcommercial.com.
NAIOP said insufficient space "is so great that firms are getting creative by renting properties that can be adapted to serve their purposes."
Just when the industrial market seemed like it could not get any stronger, the new year has seen demand for space far outpace the supply of new product, according to a new report by NAIOP.
Rents have correspondingly increased rapidly, and many firms simply cannot find space to lease.
"The scarcity is so great that firms are getting creative by renting properties that can be adapted to serve their purposes, locating facilities further away from their final destinations and building vertically," according to the report.
"Concerns over access to future space needs have even resulted in larger firms occupying extra space today to avoid problems in the future and signing leases on buildings long before they are built. This, of course, lowers current vacancy rates and worsens the problem in the short run.
"Smaller firms often do not have this ability. Because of this, they are finding it difficult to expand. In more densely populated areas, land is physically constrained and/or zoning prohibits the ability to add supply, leaving a true shortage with no obvious solution."
Given these trends, report authors Dr. Hany Guirguis and Dr. Michael Seiler forecast that the total net absorption of industrial space in 2022 will be 401.4 million square feet with a quarterly average of 100.4 million square feet.
In 2023, the projected net absorption is 334.1 million square feet with a quarterly average of 83.5 million square feet.
The solid upward revision of the 2022 forecast can be attributed to retailers and manufacturers expanding their inventories to avoid future supply shortages and the expected good performance of the economy in 2022 and 2023. The economy's transition from recovery to expansion supports higher employment and a rising growth rate for real gross domestic product (GDP).
Last-Mile Servicers Continue Increase in Leasing
Much of this demand is focused on infill locations, not only because of rising transportation costs but also because tenant footprints are changing, according to Brett Turner, Senior Managing Director, Acquisitions & Dispositions at BKM Capital Partners.
"Technological innovations have reduced the footprint of many of our tenants," Turner tells GlobeSt.com. "That widget maker who used to be in 50,000 square feet now only needs 5,000 square feet by utilizing ecommerce, same day delivery and additive manufacturing."
"Small- to mid-size industrial users are dominating the leasing market as industries servicing the last mile continue to see an increase in leasing. From Q1 to Q3 2021, 2,500 leases were executed below 50,000 sf compared to approximately 800 in the 50,000 to 100,000 sf range."
'We're Only in the Top of the Fourth Inning'
Few, if any industry observers, expect demand to wane any time soon.
"Using a baseball analogy, the growth of e-commerce is still in the bottom of the third inning, or perhaps the top of the fourth," Jim Scott, principal at Avison Young specializing in the industrial sector, tells GlobeSt.com. "Reverse logistics is still a weak link for many retailers, and even as Amazon slows the pace of their logistics growth, there is an infinite number of competitors attempting to catch up to compete.
Scott said that retailers and manufacturers "learned the hard way" that an overly lean "just in time" network resulted in an enormous loss of revenue from their inability to produce and sell.
For example, he said, several auto manufacturers have lost millions of potential sales by their inability to source semiconductors.
"The solution to safeguard against such disruptions is a combination of onshoring more manufacturing capacity while holding a great inventory to buffer against these disruptions, which of course, creates more demand for warehouses than previous norms," according to Scott.
Money Pours In
Another marker of the robust industrial market is the number of investors and developers eager to enter the space.
Peter Curry, real estate partner, Farrell Fritz, tells GlobeSt.com that the traditional way to determine the impending end of a particular real estate cycle is to count the percentage of new projects that are being attempted by first-time or inexperienced developers.
"Once untried investors undertake a significant portion of overall construction, it becomes clear that seasoned real estate professionals have decided that the market is too risky, pricey or both," Curry said.
"Under that criterion, the demand for industrial space, and the race by seasoned developers to provide that space, remains in full swing. National and international real estate developers, and the funds that finance them, are acquiring desirable land in all areas of the United States to construct massive logistics centers and industrial parks.
"The effects of the COVID-19 pandemic on the international supply chain, the increase in online shopping, and issues with trucking have all caused tenants to abandon their long-standing 'just in time' economic strategy. Of course, the invasion of Ukraine will strain supply lines even further, and for an indefinite period."
He said that construction is occurring even in areas once considered impossible to build in, including the boroughs of New York City and older suburbs surrounding metropolitan areas.
"As of now, the only possible impediment to meeting the NAIOP forecast will be a shortage in construction materials. It will certainly not be a resistance to the increased rents necessary to justify the construction of new industrial product; tenants' resistance to that has evaporated over the last three years. In short, the NAIOP forecast represents a reasonable estimation of the construction and absorption of new industrial product through 2023.
Hitting the $100-per-square-foot Mark
One sign of investors' love affair with industrial has been the rapid rise in quarterly sales. In the seven quarters since COVID-19 impacts hit, these have been rising at a fast clip, Craig Tomlinson, Stan Johnson Company Senior Director & Partner, observes.
"We've seen tremendous growth not only in sales volume, but also in the total amount of square footage transacted, as well as an increasing average deal size," he tells GlobeSt.com.
It's also worth noting, Tomlinson said, that in Q2 2022, the average price per square foot for single-tenant industrial product surpassed the $100-per-square-foot mark for the first time in history and has been increasing since then.
"In support of NAIOP's research, we've seen unprecedented levels of buyer demand with an interesting trend of seeing strong investment volume in tier 2 and tier 3 markets," he said.
"Big cities are still holding their own, but when smaller markets make up a sizable percentage of overall sales, it suggests that institutional investors aren't able to find what they need and may be relaxing their geographic criteria."
SoCal and Phoenix Markets Stay Hot
Chad Jacobson, COO, DAUM Commercial, tells GlobeSt.com that NAIOP's projections are aligned with the significant increase in demand he is seeing, especially within the key Southern California and Phoenix industrial markets.
"This hunger for space has driven up pricing dramatically in the second half of 2021 and into this year," Jacobson said. "We're experiencing clients selling industrial properties for upwards of 30% more than they acquired them for, after simply holding the assets for a few months.
"This has created challenges as some users are requiring as much as three-times the industrial warehouse space they did less than two years ago, purely due to ramped-up e-commerce demand."
He said that in some cases, DAUM is able to demonstrate the benefits of moving further east into Inland Empire submarkets. For other clients, such as those in the food and beverage industry, infill locations near population hubs remain critical.
"Unlocking opportunities for owner-users and tenants that range in size and breadth of resources is still very possible," Jacobson said. "It often requires identifying assets that might not seem an ideal fit, but can be retrofitted to fit client needs, as well as drawing upon deep and long-standing relationships in the subject markets, including those with local municipalities."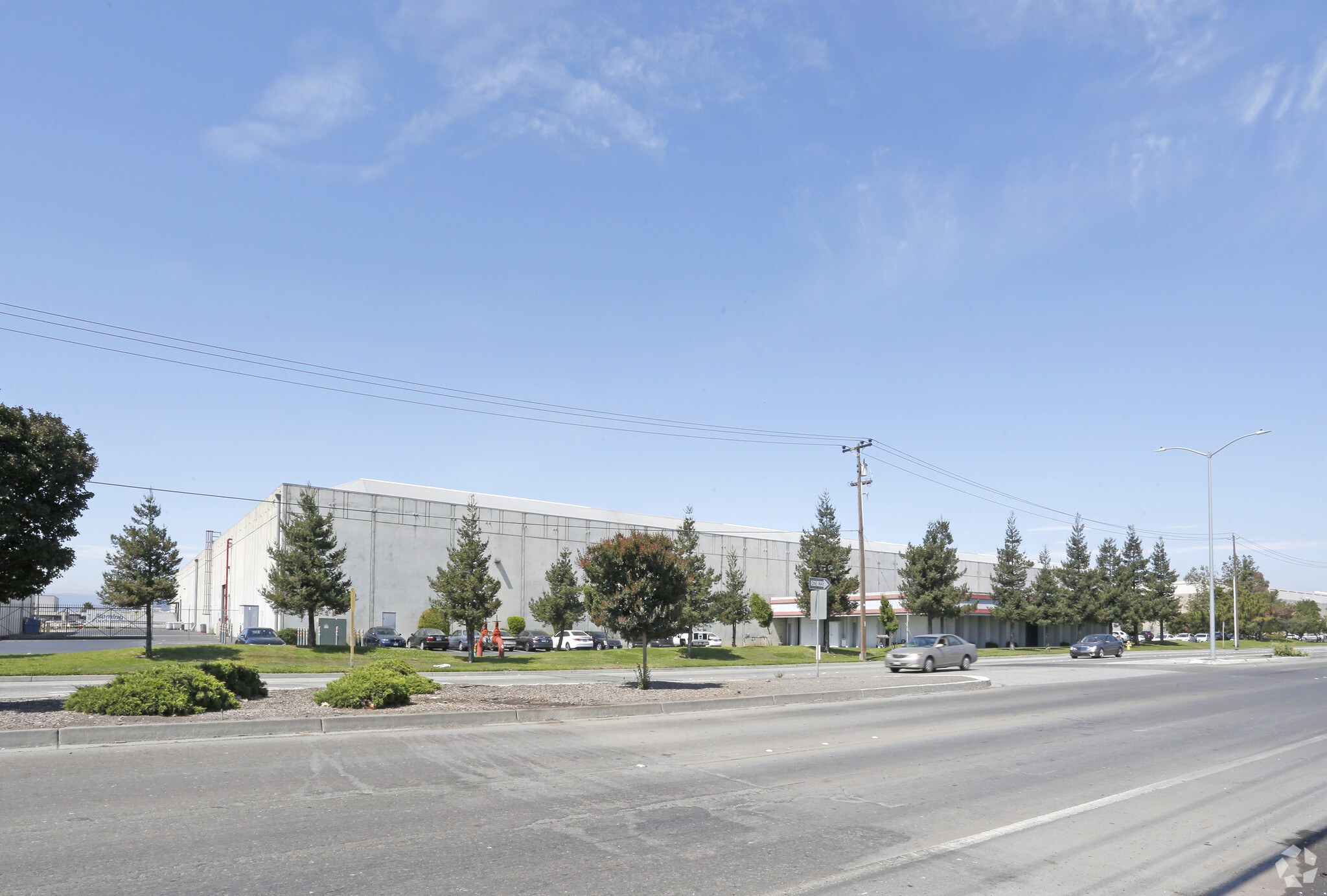 DAUM Commercial Real Estate Services has arranged the purchase of two fully leased industrial properties in Fremont. CenterPoint Properties acquired the assets from an undisclosed seller for $86 million.
Jordan Lara of DAUM represented the buyer in the deal.
Situated on 13.7 acres at 41099 Boyce Road, the properties offer a total of 208,180 square feet of industrial space with 28-foot clear heights and a fully secured site.