DAUM Commercial Completes 10-Year Lease of a +/- 70,000 Square-Foot Industrial Building in Orange County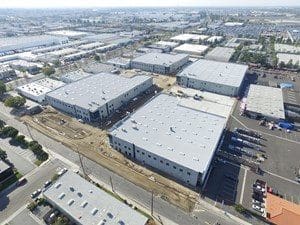 Panattoni Development Company, Inc. ("Panattoni"), Principal Real Estate Investors ("Principal") and DAUM Commercial Real Estate Services have completed the 10-year lease of a 69,882 square-foot industrial building currently under construction in Orange County, California to a publicly traded commercial and residential roofing distributor.
Chris Migliori and Paul Gingrich, both Executive Vice Presidents at DAUM, represented Panattoni and Principal in this transaction.
This is the first lease transaction completed for the Orange County Commerce Center, a four-building, 232,354 square-foot Class A industrial development project, which is the only industrial development project under construction in the severely supply-constrained North Orange County submarket, according to Jacob LeBlanc, Partner at Panattoni.
"THE WALLS WERE JUST TILTED FOR ALL FOUR BUILDINGS AND SHORTLY THEREAFTER WE WERE ABLE TO FINALIZE THIS LEASE WITH A HIGH-QUALITY LONG-TERM TENANT," SAYS LEBLANC. "WE ARE EXCITED TO HAVE COMPLETED OUR FIRST LEASE TRANSACTION WHILE STILL EARLY IN THE CONSTRUCTION PROCESS. LEASING THE LARGEST BUILDING IN THIS PROJECT BEFORE CONSTRUCTION COMPLETION REALLY SPEAKS TO THE STRONG TENANT DEMAND IN THE 45,000 TO 70,000 SQUARE-FOOT SIZE RANGE IN THE ORANGE COUNTY INDUSTRIAL MARKET."
The new tenant is a publicly traded commercial and residential roofing distributor, which currently operates in over 500 locations throughout all fifty states in the United States and is further expanding its presence in Orange County with this lease, notes LeBlanc.
"There continues to be particularly high demand for industrial space in North Orange County, with vacancy rates posting consistently in the 1-percent-range, and asking rental rates in the county increasing 8 percent over the past year," adds Chris Migliori. "With this lease, the tenant has the opportunity to occupy a best-in-class industrial building with modern, in-demand amenities in a consistent and thriving market."
LeBlanc adds: "We strategically developed this project to fill a deep hole in the supply-constrained Orange County industrial market. The unique opportunity to occupy Class A industrial product in this region has attracted interest from several exceptional companies. We are excited to establish this relationship with our new tenant and are grateful to the DAUM team for facilitating a smooth and quick lease transaction."
DAUM was retained as the exclusive listing agent for this project before the development broke ground earlier this year. The other three buildings, ranging from 47,813 to 60,809 square feet, are currently available for lease.
The 69,882 square foot building to be occupied will feature a 6,995 square feet of high quality two story executive office, 30' minimum warehouse clear height, ESFR sprinkler system, 100% site concrete throughout the auto parking and truck court areas, and a 132' fully secured concrete truck court/yard with exceptional loading capabilities featuring 7 dock high doors and 1 grade level door.
The tenant will also benefit from close proximity to five major freeways including Interstate 5, State Routes 91, 57, 55 and 241 Toll Road, and direct access to the Ports of Los Angeles and Long Beach.
The property is located at 721 S. Van Buren Street in Placentia, California and is expected to be completed by early 2019. The additional three buildings that comprise the Orange County Commerce Center are located at 711 S. Van Buren Street in Placentia, California and 1365 & 1367 S. Van Buren Street in Anaheim, California.
The lease is scheduled to commence immediately upon construction completion in early 2019. The total lease consideration is approximately $8.65 million. Curtis Krusie and John van Rossem with Mohr Partners represented the tenant in this transaction.