DAUM Commercial Completes Sale of Office and Airport Hanger Property Totaling 16,900 Square Feet
SCOTTSDALE, ARIZ. – DAUM Commercial Real Estate Services has directed the sale of a 16,900 square-foot building, featuring office space and an airport hangar, on 1.4 acres of land in the Scottsdale Airpark submarket of Scottsdale, Arizona, on behalf of both the buyer and the seller.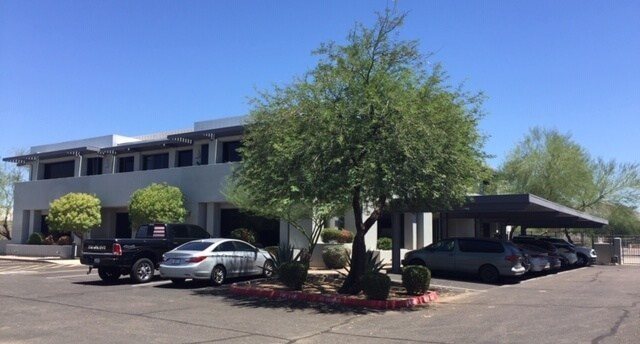 Airport Hanger Property
DAUM's Executive Vice President and Phoenix Co-Branch Manager Kirk Jenkins represented the buyer, Scottsdale Airpark, LLC. Executive Vice President Steve Bodeman represented the seller, Kachina Investments, LLC, in the off-market transaction.
"This was a rare opportunity for the buyer to bolster their portfolio with a signature acquisition in a premier greater Phoenix area location," explains Jenkins, noting that Scottsdale Airpark is seeing an influx of new construction, and thriving companies in the submarket are anticipated to add a significant number of jobs in the coming months. "In addition to establishing a foothold in the Scottsdale Airpark submarket, the new owner will benefit from strong immediate cashflow, since the multi-tenant asset is fully leased to several diverse businesses."
The building, comprised of two stories of garden-style office space and an attached aircraft hangar, is also a prime asset due to its direct taxiway access, he continues.
Bodeman adds: "We helped Kachina Investments purchase this property in 2006. After holding the property for more than a decade, the firm strategically determined to sell in order to capitalize on increased market demand, indicated by post-recession-low vacancies."
He notes that the building, which was originally constructed in 2000, has been very well maintained and both the exterior and interior were recently painted. This was appealing to the buyer and helped secure a competitive price for the seller, compared to other properties of this vintage in the submarket.
"While this was a win-win for both parties, as with any transaction, the process required strategic negotiations," Jenkins says. "DAUM's long-standing relationships with both the buyer and seller, as well as our deep knowledge and experience in the submarket, uniquely positioned us to bring everyone together and come to a satisfying conclusion."
The building is located at 16009 N. 81st Street in Scottsdale, Arizona. The total purchase price was approximately $3.3 million.
Featured In:
ScottsdaleCommercial Executive Magazine: http://cem-az.com/airport-hanger-property/
Scottsdale Independent: https://www.scottsdaleindependent.com/business/daum-commercial-completes-sale-of-office-airport-hangar-property/
Done Deals: http://alex-donedeals.blogspot.com/2019/08/daum-commercial-completes-3-million.html
AZBEX: http://azbex.com/commercial-real-estate-transactions-08-20-2019/
Phoenix Business Journal: https://www.bizjournals.com/phoenix/news/2019/08/18/deals-of-the-week-boston-investor-buys-phoenix.html
RENTV: http://www.rentv.com/content/southwest/mainnews/news/25592
Blau Journal: https://www.blaujournal.com/daum-commercial-completes-sale-of-office-and-airport-hangar-property-totaling-16900-square-feet-in-scottsdale-arizona/
Commercial Executive Magazine: http://cem-az.com/airport-hanger-property/