DAUM completes one of the largest lease deals in Deer Valley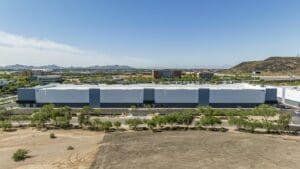 DAUM Commercial Real Estate Services has completed the lease of a newly constructed 112,000 square-foot industrial building in the northwest Phoenix, Arizona submarket of Deer Valley for a total consideration of more than $12,000,000—one of the largest lease deals in the area.
DAUM Executive Vice Presidents Chris Rogers and Trevor McKendry represented Fox Factory Inc., a Duluth, Georgia-based leader in designing, developing, and manufacturing world-renowned performance products, in the long-term lease transaction. Fox Factory Inc. will use the site as a new regional assemblage manufacturing facility. CBRE negotiated on behalf of the new building's owner Meritex, a developer of commercial real estate.
Well-located with immediate access to Interstate 17 and just 30 minutes from Phoenix Sky Harbor Airport, the brand-new building includes a fully secured fenced yard, 32' clear height, 31 dock doors, and 3,000 amps of power. At the signing of the lease, the building's shell was complete, and the new tenant plans to build it out to suit its needs. Fox Factory has indicated it expects to create approximately 100 new jobs at their latest regional manufacturing and assembling facility, which will produce aftermarket parts for large load capacity utility task vehicles (UTVs) and all-terrain vehicles (ATVs).
"This lease of a newly constructed property by a well-established brand with a global presence continues to highlight how the Deer Valley area is maintaining an exceptional growth trajectory in the Phoenix region," notes McKendry. "The fact that this is a new facility and a new geographic location for Fox is indicative of the long-term opportunities businesses see in the greater Phoenix market."
Phoenix overall has seen a significant increase in new industrial construction since 2021. In the second quarter, according to Daum Commercial research, 2.1 million square feet of new space was delivered with nearly 55.6 million square feet currently under construction, representing 13.7% of total inventory.
"Though there was an uptick in the vacancy rate by 30 basis points last quarter, at 4.5 percent it is still well below the broader area's historical average of nearly 10 percent," explains Rogers.
The property is located at 2335 West Corporate Center Drive in Phoenix, Arizona.