DAUM Expands Torrance Office after 40 Years
Century-old commercial brokerage has seen double-digit growth since the pandemic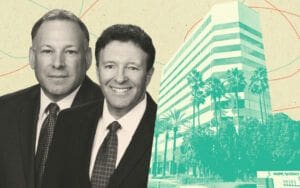 Daum Commercial Real Estate Services is expanding into larger digs in the South Bay.
The Downtown Los Angeles-based brokerage, after 40 years in cramped quarters in Torrance, has moved to larger offices at 19191 South Vermont Avenue, the Los Angeles Business Journal reported. Terms of the deal were not disclosed.
Its new offices are at the 10-story Pacific Gateway, near the 405 and 110 freeways. The offices, built in 1981 and renovated in 2019, are owned by Silicon Valley-based Nome Ventures, which bought the property in October 2020 for $55.5 million.
Daum's South Bay office is led by Brad Levin and Chuck Brill, who said the 30-percent larger quarters would help facilitate a South Bay expansion with the hiring of more agents. The size of the new office was not disclosed.
"Our (old) offices were tired and dated," Levin said of the decision to move. "We've been having record years and have been in a money-spending mode and trying to hire and improve services and staff and marketing capabilities."
He said the South Bay expansion was able to "take advantage of the market turn and get a much better space for our needs."
Daum, in Los Angeles for more than a century, has seen double-digit growth since the dawn of the pandemic.
Its year-over-year gross revenue rose by 23.2 percent in 2020, 41.8 percent in 2021 and 21.3 percent last year.
Brill said the company, which operates in Southern California and Arizona, had no plans to enter new markets but was "always actively looking" at acquisitions of other companies and growth.
In the South Bay, the company is working on a lot of industrial real estate transactions, where Levin sees strong demand.
"The South Bay has been a very good hub for the industry, and we've been able to capitalize on that," he said.