KB Homes Buys Land to Build 207 Residences in LA's San Gabriel Valley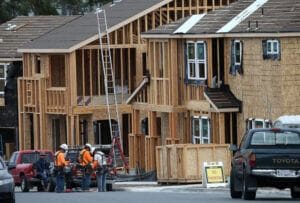 KB Homes is set to build another 207 new residences in Greater Los Angeles after securing entitlements and acquiring the land for development.
The company paid $24 million for 13.5 acres of commercial land in the city of El Monte in Los Angeles County's San Gabriel Valley, about 15 miles from Downtown L.A. The L.A-based firm will build 169 single-family residences and 38-multi-family units, according to past media reports.
DAUM Commercial Real Estate Services announced the deal and represented both the buyer and the seller.
The property at 2540 Rosemead Boulevard was formerly the home of the Starlite Drive-In movie theater built in the 1950s. More recently, Taiwan-based Starlite Swap Meet Group acquired the site in the 1990s and managed the weekend swap meets, which closed in 2020 during the COVID-19 pandemic and never reopened.
"After owning the land and managing the Starlite Swap Meet for three decades, the owner was ready to sell," said DAUM's Nick Peukpiboon who brokered the deal with Rudy Lara. "With available land for new development at a premium, the chance to purchase over 13 acres of empty acreage was too good to pass up for KB Homes."
The property had been zoned commercial but due to significant housing shortages in the San Gabriel Valley, El Monte city officials changed the zoning to residential. The entitlement process took nearly two years to secure.
"The process to change the entitlement from commercial to residential, though long, was the ultimate catalyst that enabled this transaction to come to fruition," Peukpiboon said, adding that the transaction highlights the current demand overall for commercial real estate in the San Gabriel Valley.
Indeed, earlier this month, Commercial Observer reported Chateau Group USA sold a 127-unit development with 50,000 square feet of retail in the small city of San Gabriel.