Lawndale Warehouse Asset Sells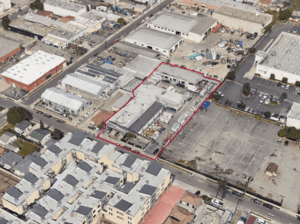 Daum Commercial Real Estate Services represented Rusher Air Conditioning in its acquisition of a 16,680-square-foot industrial building in Lawndale for $5.52 million.
Michael Collins and Dustin Hullinger of Daum's Capital Markets Group represented the buyer in the transaction. Brian Held of CBRE Group Inc.'s South Bay office represented the seller, the Sendy Hartwell Trust.
"Rusher Air, a preeminent Southern California company that has been in existence for more than 75 years, was looking to expand from its 10,000-square-foot facility in Torrance, California to a larger, more efficient headquarters," Collins said in a statement. "Our team worked throughout 2022 to source an ideal building in an excellent location in Lawndale that more than suits their needs. We were also successful in assisting the buyer in facilitating a 'reverse' exchange and solidifying a loan with favorable terms."
Constructed in 1967, the 16,680-square-foot building — located at 4435 W. 153rd St. — features a gated concrete yard. Its central location offers immediate access to multiple freeways and ample space for efficient operation and long-term growth potential.
According to a Daum report, Lawndale's industrial market direct vacancy remains extremely tight at 1.9% as of the third quarter. Sales prices rose 11.1% and deal volume increased 73.8% during the quarter, demonstrating investors' robust interest in this market, Collins said.
In addition to directing the purchase of Rusher Air's new headquarters, Daum is marketing the buyer's previous headquarter property on Normandie Avenue in Torrance, just south of the 405.