Manhattan West Pays $16.5M for OC Industrial Park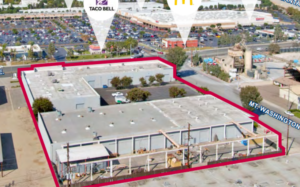 Los Angeles-based investment firm Manhattan West Real Estate has acquired Talbert-Mount Washington Industrial Park, a two-building, multi-tenant complex in Fountain Valley, CA. Manhattan West purchased the 3-acre, 60,000-square-foot asset from DDK Investments for $16.5 million.
"This asset's diversified tenant mix from a use perspective, and staggered lease expirations provide us with the opportunity to capitalize on a mark-to-market investment strategy in supply-constrained Orange County," said Manhattan West's Grant Fisher.
Talbert-Mount Washington Industrial Park is fully occupied by six tenants, including OC Art & Home, Harwood Galleria, The Drawer Shop and RADCO. Both freestanding building are two stories, and feature large outdoor storage yards, 18' to 23' clear heights, fire protection, oversized ground-level doors and HVAC.
Manhattan West was represented by Joseph Harmon and Charles Johnson of DAUM Commercial Real Estate Services and the seller, who has owned the property for several decades, was represented by Devin Ray and Mike Barreiro, also with DAUM.