USAA, McDonald Start 1.8 MSF Logistics Facility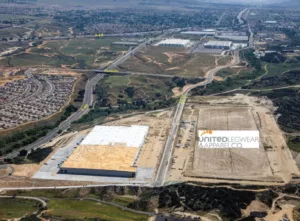 United Legwear & Apparel Co. will occupy the build-to-suit distribution center in California's Inland Empire.
McDonald Property Group, of Laguna Beach, Calif., will soon start construction on a 1.8 million-square-foot build-to-suit distribution center in Beaumont, Calif., in Southern California's Inland Empire.
The BTS is for United Legwear & Apparel Co. LLC, a major manufacturer of legwear, bodywear and other apparel and accessories, including licensed brands such as Hurley, Champion, Fortnite, Van Heusen, Skechers and Puma.
ULAC's landlord under a long-term lease will be USAA Real Estate, which intends to own this investment long term, a spokesperson told Commercial Property Executive.
The property is intended primarily for assembly and distribution uses, with ancillary management offices, and will feature a 40-foot clear ceiling height, about 30,000 square feet of office space, and assembly, racking and automated material handling systems.
Construction will begin later this month, with completion expected in December 2023.
The site encompasses 85 acres known as Phase II of the Crossroads Logistics Center, a master-planned project at I-10 and Hwy. 60.
In a prepared statement, Chris Volpe, ULAC's chief operating and financial officer, said the facility will let ULAC consolidate their West Coast logistical hub and distribution point in one location. ULAC currently operates facilities in Whittier and Rialto, Calif.
The USAA Real Estate–McDonald team completed Wolverine Worldwide's fulfillment center and another build-to-suit fulfillment facility as Phase I of Crossroads Logistics Center in 2017 and 2020, respectively.
David Consani, Jim Koenig, Darla Longo and Barbara Emmons of CBRE and Rick John of Daum represented McDonald and USAA in the lease transaction. Luke McDaniel, Cameron Driscoll, Jeff Bellitti and Mac Hewett of JLL represented United Legwear.
The architect of record is HPA Architecture, and the general contractor is Fullmer Construction Co.
High and low
In January, USAA received $81.6 million in construction financing from Regions Bank for the development of an 816,000-square-foot distribution center in Beaumont as a BTS for Amazon. McDonald Property Group is USAA's development partner on that project also.