DAUM COMMERCIAL COMPLETES $34 MILLION SALE OF 5-ACRE LAND PARCEL FOR PLANNED 108,000 SQUARE-FOOT, CLASS A INDUSTRIAL DEVELOPMENT IN LOS ANGELES COUNTY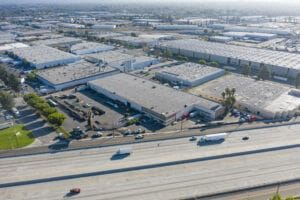 The LARA Team of DAUM Commercial Real Estate Services has completed the sale of a 5-acre land parcel for development in the Los Angeles County submarket of Santa Fe Springs, California for $34 million.
The buyer, Rexford Industrial, plans to complete the ground-up development of a 108,000 square-foot, Class A warehouse facility at the site. The firm is also currently offering the existing 87,529 square-foot property for lease with flexible terms while the development planning is underway, according to Jordan Lara, an Executive Vice President at DAUM Commercial, who represented the seller and procured the buyer alongside fellow DAUM Executive Vice Presidents and Lara Team members Nathan Lara, Rudy Lara, and Andrew Lara.
"The seller, a private family business, had an irreplaceable location in the Mid-Counties area of Los Angeles County ideally suited for e-commerce distribution," explains Jordan, noting that the submarket posted industrial vacancies of just 0.80% in Q1. "With its close proximity to highway transportation routes, direct access to the Ports of Los Angeles and Long Beach, and freeway visibility with over 500 feet of Interstate 5 frontage, we were ultimately able to secure one of Southern California's leading industrial real estate firms as the buyer and complete a win-win transaction for both parties."
According to Nathan Lara, who represented the family in acquiring the property from their landlord in 2016, alongside Rudy Lara, all parties worked tirelessly to ensure a quick, smooth transaction and navigated market challenges to ensure that Rexford Industrial would be able to deliver a state-of-the-art development to the market.
"Our long-standing relationships with both the buyer and the seller were crucial in the negotiations for this transaction," continues Nathan. "Throughout the entire transaction process, we kept all parties in regular communication to successfully work through due diligence and satisfy zoning requirements. When zoning challenges emerged, we were able to effectively communicate both the seller's and buyer's interests to maintain the chemistry among all groups."
Patrick Schlehuber, Executive Vice President, Investments at Rexford Industrial, adds: "The city was in process of downzoning the subject property and adjacent neighbors. Our team worked effectively and collaboratively to maintain the current zoning for both industrial and commercial uses, which will allow us to execute our long-term plan to deliver much-needed new Class A space to the market."
Rexford leveraged its connections with the city and large development department to come up with a solution, according to Tomas Narbutas, Acquisitions Manager, Market Leader: "We presented a creative ground-up concept crafted by our in-house architectural team that would achieve the goals that the city was aiming for, while still allowing for the development," says Narbutas. "DAUM played an instrumental role in guiding the seller through this complex transaction and bringing it to a satisfactory close."
The property offers immediate access to major freeways such as Interstate 5, Interstate 605, Interstate 105, and State Route 91, and is within 25 miles of the Port of Long Beach, the Port of Los Angeles, and Los Angeles International Airport.
The property is located at 13711 Freeway Drive, Santa Fe Springs, California.
About DAUM Commercial
DAUM Commercial Real Estate Services is a leading provider of commercial real estate services including brokerage, tenant representation, consulting, leasing, sales and property management. Founded in 1904, DAUM focuses on longstanding client relationships and draws upon its century-long track record to deliver steadfast insights and proven results to clients across the U.S. DAUM has ten offices throughout Southern California and Arizona. More information is available at www.daumcommercial.com.