DAUM COMMERCIAL COMPLETES ACQUISITION OF 16,680-SF INDUSTRIAL BUILDING IN LAWNDALE, CALIFORNIA ON BEHALF OF 77-YEAR-OLD HEATING AND COOLING COMPANY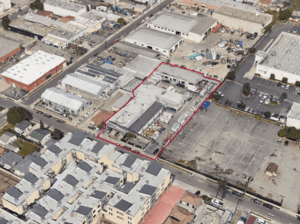 DAUM Commercial Real Estate Services, a leading provider of commercial real estate services including brokerage, tenant representation, consulting, leasing, investment sales, and property management, announces Rusher Air Conditioning's acquisition of a 16,680 square-foot industrial building in Lawndale, a City in Los Angeles, California, for $5.52 million. The buyer, Rusher Air Conditioning, is a 77-year-old company that designs and installs commercial heating and cooling systems.
Michael Collins, Vice Chairman and Director of DAUM's Capital Markets Group, and Dustin Hullinger, Associate Vice President of DAUM's Capital Markets Group represented the buyer in the transaction. Brian Held of CBRE's South Bay office represented the seller, The Sendy Hartwell Trust.
Through their depth of understanding and extensive expertise in Los Angeles' industrial sector, the DAUM team was able to identify a property to meet their client's specific requirements.
"Rusher Air, a preeminent Southern California company that has been in existence for more than 75 years, was looking to expand from its 10,000 square-foot facility in Torrance, California to a larger, more efficient headquarters, says Collins. "Our team worked throughout 2022 to source an ideal building in an excellent location in Lawndale that more than suits their needs. We were also successful in assisting the buyer in facilitating a 'reverse' exchange and solidifying a loan with favorable terms."
Lawndale is located in the southwestern area of Los Angeles, where, according to a DAUM report, industrial market direct vacancy remains extremely tight at 1.9% as of Q3. Sales prices rose 11.1% and deal volume increased 73.8% during the quarter, demonstrating investors' robust interest in this market, says Collins.
Constructed in 1967, the 16,680 square-foot building is accompanied by a large gated, concrete yard which will accommodate Rusher Air's service vehicles. The central location offers immediate access to Interstate 405, 105, and 110 Freeways with ample space for efficient operation and long-term growth potential.
In addition to directing the acquisition of Rusher Air's new headquarters, DAUM is exclusively marketing the buyer's previous headquarters FOR SALE. The property, suitable for contractors and trucking companies that require outside storage, is situated in a highly visible site along Normandie Avenue in Torrance, just south of the 405 Freeway.
"We are pleased to continue serving our client's commercial real estate needs in the highly competitive Los Angeles industrial market, where finding high-quality assets for sale is challenging," says Collins.
Rusher will vacate its current headquarters building in February 2023, when it will be available for a new tenant, according to Dave Rusher, Principal and Founder of Rusher Air Conditioning.
"DAUM exceeded our expectations in securing the ideal building for our company to transition into," says Rusher. "After 77 years of operation, we were in need of expanding but required a very specialized building. Michael Collins and his team surpassed every benchmark and quickly identified the exact building to suit our needs. Thanks to their professionalism and tremendous market knowledge, our company can swiftly make the transition to the new headquarters and continue to run our business seamlessly."
The newly acquired property is located at 4435 W. 153rd Street, Lawndale, California 90260.
About DAUM Commercial
DAUM Commercial Real Estate Services is a leading provider of commercial real estate services including brokerage, tenant representation, consulting, leasing, sales and property management. Founded in 1904, DAUM focuses on longstanding client relationships and draws upon its century-long track record to deliver steadfast insights and proven results to clients across the U.S. DAUM has 11 offices throughout Southern California and Arizona. More information is available at www.daumcommercial.com.