DAUM COMMERCIAL COMPLETES SALE OF 92,640 SQUARE-FOOT, MULTI-TENANT INDUSTRIAL PARK IN LOS ANGELES COUNTY FOR $22.7 MILLION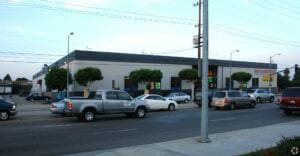 DAUM Commercial Real Estate Services, a leading provider of commercial real estate services including brokerage, tenant representation, consulting, leasing, sales, and property management, announces the sale of two freestanding industrial buildings in Gardena, California, a South Bay submarket of Los Angeles County, in an off-market transaction for $22.7 million.
Chuck Brill, Executive Vice President, Principal, and South Bay Branch Manager at DAUM Commercial, represented the buyer, Dunbar Real Estate Holdings, LLC, an El Segundo, California-based investor.
With an excellent mix of four credit, national tenants including AutoZone, 3 Day Suit Broker, Off Broadway West, and 4 Wheel Parts, on long-term, below market leases, the property offers a unique investment opportunity to secure a stabilized, net-leased industrial asset with a diversified income stream and guaranteed future upside, says Brill.
"Having recently represented a lessee in a lease transaction regarding one of the vacant units at the subject property, we had established a valuable relationship with the lessee and were made aware of the possibility of the industrial park coming for sale," explains Brill. "By strategically positioning our client's offer, we were able to capture the seller's attention before the property officially came available. Leveraging our extensive understanding of the South Bay market and strong industry partnerships, we collaborated with all parties involved to ultimately beat out multiple all-cash offers despite the buyers ultimately obtaining financing."
According to a recent DAUM report, the supply-constrained South Bay submarket of Gardena maintains historically low vacancy rates, recording 1.6% direct vacancy in Q4 2022 with an average asking rent of $1.75 per square foot. With a slowdown in acquisitions activity in Q4 combined with the new "Mansion Tax" going into effect halfway through the escrow period—which levies a 5.5% transfer tax upon sales above $10 million in the City of Los Angeles—the DAUM team was able to lock in a lower purchase price, notes Brill.
"We were able to capitalize on our industry knowledge to agilely negotiate a favorable, below-market purchase price of $245 per square foot," says Brill. "As there is little to no developable industrial land available in the area, we were able to identify this opportunity to secure a rare infill, supply-constrained location that offers tremendous future upside potential for our client."
Located immediately adjacent to Interstate 405, the property features approximately 400 feet of highly-sought-after freeway frontage with an additional 500 feet of main street frontage along 190th Street. The property comprises two concrete tilt-up buildings totaling 92,640 square feet situated on 3.66 acres. The buildings are fully equipped with 18- and 19-foot clear height, fire sprinklers, dock-high loading doors, private security fenced yards, and ample grade-level parking.
The seller, T.A Properties, LTD—a real estate investment and property management firm, was represented in the transaction by The Altemus Company.
The buildings are located at 1355–1361 W. 190th Street in Gardena, California, a South Bay submarket of Los Angeles County.
About DAUM Commercial
DAUM Commercial Real Estate Services is a leading provider of Commercial/Industrial real estate services including brokerage, tenant representation, consulting, leasing, sales and property management. Founded in 1904, DAUM focuses on longstanding client relationships and draws upon its century-long track record to deliver steadfast insights and proven results to clients across the U.S. DAUM has 11 offices throughout Southern California and Arizona. More information is available at www.daumcommercial.com.