DAUM COMMERCIAL REPRESENTS ALERE PROPERTY GROUP IN ACQUISITION OF RARE INDUSTRIAL WAREHOUSE PROPERTY IN LOS ANGELES COUNTY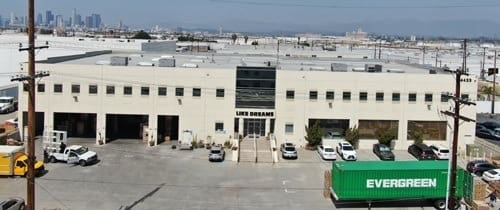 DAUM Commercial Real Estate Services has directed the sale of 4433 Pacific Boulevard, an approximately 33,400-square-foot, Class A industrial warehouse in the Los Angeles County submarket of Vernon, Calif. DAUM represented both the buyer, Alere Property Group, one of the largest and most active developers and investors of industrial real estate in Southern California, and the seller, a private investor, in the off-market transaction.
"An available property of 4433 Pacific Boulevard's size and quality is a rare find in west Vernon, a highly-desirable industrial submarket due to its proximity to Downtown Los Angeles and access to the region's freeway network," said Jerry Sackler, executive vice president at DAUM Commercial Real Estate Services. "Alere moved quickly to acquire the asset, which is occupied by a strong credit tenant and provides immediate cashflow. Our team is pleased to have facilitated the transaction on behalf of Alere as the firm continues to bolster its presence in the Los Angeles market and add to its established portfolio."
Sackler adds that the DAUM team was able to identify the transaction opportunity due to long-standing relationships with both the buyer and the seller.
"Drawing upon decades of experience working within this market on behalf of the region's top industrial owners, our team was able to complete a quick close and a smooth transaction for all parties at a satisfactory price point," says Sackler, who notes industrial vacancy in Vernon was 2.7% in Q1, according to a recent DAUM market report.
4433 Pacific Boulevard is a modern facility that stands out from other aging structures in the historical industrial hub near Downtown LA. The distribution warehouse was built in 2005, features a contemporary design and includes 8,800 square feet of mezzanine office space, five dock-high doors and a secured fenced yard. Clear height ranges from 28 to 30 feet.
The property is surrounded by an extensive freeway network with a direct link to the Ports of Los Angeles and Long Beach via the I-710 freeway. West Vernon is a preferred distribution location for businesses requiring access to the surrounding Southern California logistics transportation routes, in addition to Los Angeles' immense population and employment base.
"Alere owns several assets in Vernon, and the qualities of 4433 Pacific Boulevard fit well into our portfolio of well-located, best-in-class assets that are easily accessible to the ports," said Alan Carmichael, senior vice president of investments at Alere. "With a strong knowledge of the highly-competitive Commerce-Vernon submarket, our team was eager to invest in this top-tier asset, and we are grateful to the DAUM team for its swift work in helping us get the deal done."
Alere's Los Angeles County portfolio includes 47 high-quality, well-located industrial assets totaling approximately 4.1 million square feet. Alere targets core and value-add investment opportunities throughout the Southern California region, specifically the infill submarkets of Los Angeles and Orange counties. In addition to 4433 Pacific Boulevard, the industrial investment and development firm recently acquired 14422 Astronautics Drive, a Class A 47,000-square-foot warehouse in Huntington Beach, and 1062 McGaw Avenue, a 5.2-acre industrial property in Irvine that Alere is redeveloping into a new state-of-the-art 120,000-square-foot warehouse facility.
About DAUM Commercial
DAUM Commercial Real Estate Services is a leading provider of commercial real estate services including brokerage, tenant representation, consulting, leasing, sales and property management. Founded in 1904, DAUM focuses on longstanding client relationships and draws upon its century-long track record to deliver steadfast insights and proven results to clients across the U.S. DAUM has ten offices throughout Southern California and Arizona. More information is available at www.daumcommercial.com.
About Alere Property Group
Founded in 2003, Alere Property Group is one of the largest and most established owners of industrial real estate in Southern California with a robust portfolio of over 30 million square feet of high-quality industrial space valued at over $5.5 billion. The Newport Beach-based company is an efficient, vertically integrated operation with capabilities spanning all functions of investment and development. Focused on creating long-term value, Alere builds sleek and modern industrial facilities that exceed expectations in design, functionality and efficiency in locations critical to meeting the complex needs of the world's most sophisticated e-commerce, distribution and manufacturing corporations. For more information, visit alerellc.com. Follow the company on LinkedIn.