DAUM DIRECTS ACQUISTION OF R&D FACILITY IN IRVINE, CALIFORNIA FOR ADAPTIVE REUSE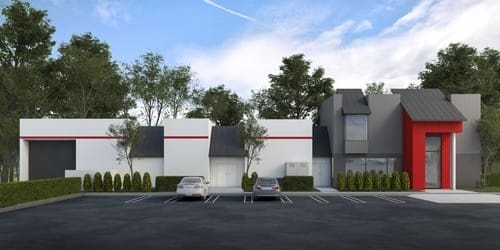 DAUM Commercial Real Estate Services recently directed the acquisition of a 16,554 square-foot R&D/Corporate Headquarters property in the Orange County submarket of Irvine, California on behalf of the Buyer, Mesa Church.
Mesa Church purchased the shell building from a private investor and plans to convert the property into a modern worship center in the coming months, according to Charlie Winn, Vice President at DAUM based out of the firm's Orange County office.
When seeking well-located space in tight markets like Orange County, users and brokers alike must be increasingly nimble and creative," explains Winn. "Representing a church is more complex because it involves obtaining a conditional use permit which focuses heavily on parking expectations for normal church operations and retrofitting the building for high occupancy gatherings. Based on our experience and connections in the region, we were able to identify a geographically favorable warehouse that provided the necessary parking by securing a creative shared-parking agreement with the sister building next door. The buyer was thankful to have had a cooperative seller (John Saunders, John Parker, and Martin Morgenstern) who allowed us the time to obtain the necessary permits."
A full conversion of the facility to a concert-worthy worship center is in the planning stages now, Winn notes.
"Mesa Church was established more than 70 years ago in Costa Mesa and was, until recently, headquartered on the campus of Vanguard University. Geography was a key component to the decision to acquire this property," says Winn. "The property is ideally located just off of MacArthur Boulevard near several major freeways, with frontage on Red Hill Avenue. This positions the worship center within an easy commute of Mesa Church's members and guests, typically coming from throughout central Orange County."
The new worship center, located at 17660 Cowan in Irvine is planned to be full open for services Easter, 2022.
About DAUM Commercial
DAUM Commercial Real Estate Services is a leading provider of commercial real estate services including brokerage, tenant representation, consulting, leasing, sales and property management. Founded in 1904, DAUM focuses on longstanding client relationships and draws upon its century-long track record to deliver steadfast insights and proven results to clients across the U.S. DAUM has ten offices throughout Southern California and Arizona. More information is available at www.daumcommercial.com.