DAUM REPRESENTS BOTH PARTIES IN THE SALE OF 4.13 ACRES OF LAND IN PHOENIX, AZ
Jan 8, 2014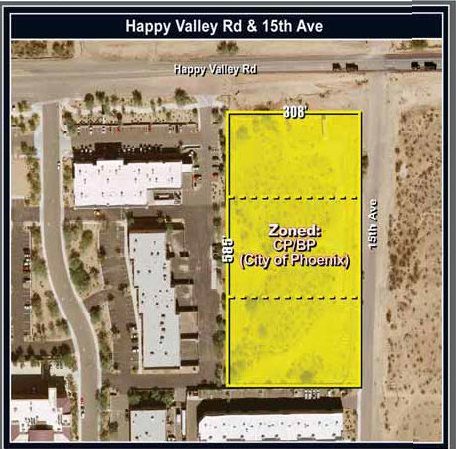 DAUM Commercial Real Estate Services announced that it represented the both the seller and buyer in the sale of a 4.13 acre parcel in Deer Valley area of Phoenix, Arizona.
Carl Johnson, Ben Johnson, & Bob Lundstedt of DAUM's Phoenix office represented both the seller, Coastline RE Holdings, and buyer, Pathfinder TRF, in this 4.13 acre purchase. Total purchase price was $756,000.
This CP/GCP (light industrial) zoned land is located at the southwest corner of Happy Valley Road and 15th Avenue.
Pathfinder TRF is an RRS Company (Randy Stolworthy) entity. RSS plans to construct a 57,000 sq. ft. Class A manufacturing facility on the site. Since 1991, RRS & Company has been a market leading sponsor of real estate investments and real estate finance throughout the Southwest.
Daum Commercial Real Estate Services is California's oldest and most experienced commercial real estate brokerage company. Founded in 1904, Daum has nine offices throughout Southern California and Arizona. The company provides a full array of commercial real estate services, including brokerage, corporate services, consulting, leasing, sale and property management.
The Phoenix office of DAUM Commercial Real Estate Services has a broad geographical market area that covers all of Phoenix and the adjoining suburbs of Scottsdale, Mesa, Gilbert, Glendale, Chandler and Tempe, Arizona. Our tenured sales staff consists of specialists in industrial and office properties. The Phoenix office has successfully leased and sold numerous industrial and office buildings and land totaling millions of square feet.