DAUM REPRESENTS BOTH PARTIES IN THE SALE OF A 62,766 SQ. FT. INDUSTRIAL BUILIDNG IN PHOENIX, AZ
Aug 6, 2014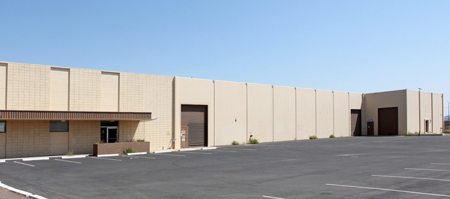 DAUM Commercial Real Estate Services announced that it represented both Buyer and Seller in the sale/acquisition of a 62,766 sq. ft. industrial facility near the airport.
Kirk Jenkins of DAUM's Phoenix office represented both Shasta Beverages (Seller) and BH 29th Street LLC (Buyer) in this transaction. The property is located at 301 S. 29th Street, in an established manufacturing area surrounding Sky Harbor International Airport.
Shasta Beverages had been utilizing the facility to bottle and can soda and sports drinks since 1990. BH has bought the property as a value added acquisition, and will be renovating with new mechanicals, paint, remodeled offices, etc. and then leasing it. The facility will then be marketed for Lease or Sale. Kirk Jenkins at DAUM has the marketing assignment. He can be reached (602) 957-7300.
DAUM Commercial Real Estate Services is California's oldest and most experienced commercial real estate brokerage company. Founded in 1904, DAUM has nine offices throughout Southern California and Arizona. The company provides a full array of commercial real estate services, including brokerage, corporate services, consulting, leasing, sale and property management.
The Phoenix office of DAUM Commercial Real Estate Services has a broad geographical market area that covers all of Phoenix and the adjoining suburbs of Scottsdale, Mesa, Gilbert, Glendale, Chandler and Tempe, Arizona. Our tenured sales staff consists of specialists in industrial and office properties. The Phoenix office has successfully leased and sold numerous industrial and office buildings and land totaling millions of square feet.